Olympus plans to cut 2,700 jobs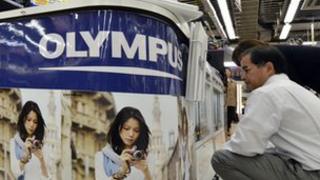 Olympus, the Japanese camera and medical equipment maker says 2,700 jobs will go as part of a five-year plan.
It lost 49bn yen ($618m; £400m) in the year to the end of March, but forecasts a profit of 7bn yen in 2012-13.
Last year, the company admitted hiding losses of 130bn yen.
Olympus also approved on Friday a £10m settlement with former chief executive Michael Woodford, who was sacked by the company's board after raising the accounting irregularities.
Mr Woodford, a Briton, had filed a complaint of wrongful dismissal against his former employer, claiming he had been fired for blowing the whistle on the accounting scandal.
Olympus had said its decision to dismiss Mr Woodford, the company's first foreign chief executive, had been due to a clash of culture.
High debts
Olympus, the world's biggest maker of endoscopic cameras used by surgeons, is suffering with relatively high costs and debts.
It will reduce its global workforce by 7% by 2014, and cut the number of its factories around the world from 30 to 18 by 2015.
In its statement , the company said it wanted to "restore its financial health".
Currently, shareholder money accounts for less than 5% of the company and the rest is financed by debt.
A debt-to-equity ratio of 20% is generally considered healthy. The group has hinted that it will ask shareholders for additional capital in a share sale.
There had been reports that consumer electronics maker Panasonic could buy shares in Olympus.
However, the BBC's Tokyo correspondent, Roland Buerk, said: "There's talk of a tie-up. Panasonic has said it's not interested but Fujifilm does seem to be interested."