Clinton Cards sold to US firm American Greetings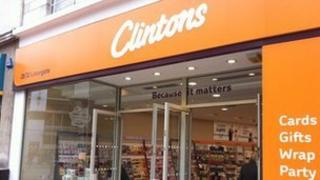 Nearly 400 Clinton Cards stores have been sold to a US greeting card company, saving 4,500 jobs.
Lakeshore Lending Limited, a subsidiary of card maker American Greetings, has bought its brands and assets, administrators Zolfo Cooper said.
Clinton Cards was placed into administration on 9 May.
A week later, Zolfo Cooper announced that 350 out of a total of 784 stores would close, including all of its Birthdays-branded stores.
The closures were expected to lead to the loss of 3,000 full or part-time jobs, said the administrators.
Strong position
Commenting on the deal, Patrick O'Brien, retail analyst with Verdict Research, told the BBC it was "not a surprise" that American Greetings was the buyer.
Through its UK subsidiary, Ohio-based American Greetings had already acquired $56m (£36m) of Clinton's senior secured debt, making it a preferential creditor and giving it a strong position in the subsequent sale talks.
Mr O'Brien said in his opinion American Greetings had "become frustrated" with Clinton's management.
"It was an aggressive bit of business," said Mr O'Brien, "but American Greetings had lost confidence in the management and wanted to protect their UK sales outlets.
"Clinton's was only ever going one way."
Liquidation process
American Greetings used $37m of this secured debt to bid for Clinton's remaining assets that Zolfo Cooper is trying to sell, in what is called a "credit bid".
American Greetings is hoping that the remaining $19m it is owed by Clinton's will be repaid once Zolfo has completed the liquidation process.
This could take six to 12 months.
"The unsecured creditors are unlikely to get anything from the liquidation," said Mr O'Brien.
The US firm is over 100 years old and has been Clinton's major supplier for 40 years.
The company said the acquisition would generate revenues of about $315m a year, or $265m excluding revenues from the sale of American Greetings products.
Zev Weiss, American Greetings chief executive, said: "We are pleased to welcome these stores, the Clinton Cards brand, and the approximately 4,500 employees as members of the American Greetings family."
The US company generates annual revenues of around $1.7bn.