HTC shares slide as company lowers revenue forecast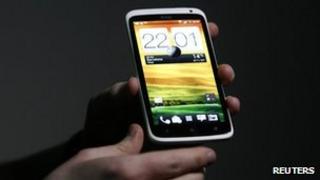 Shares of Taiwan's HTC have fallen 7% on the Taiwan Stock Exchange after the firm lowered its sales and profit forecast for the second quarter.
HTC said it now expects a revenue of NT$91bn ($3bn; £1.9bn) for the period, 13% lower than its initial projection.
It also cut its projection for operating profit margin to 9% from 11%.
The firm has seen slowing demand from Europe, while a patent dispute has resulted in a delay in the launch of its new models in the US.
Analysts said the firm had also been hurt by the growing competition in the sector.
"HTC was the early leader in Android but they have not been sufficiently prepared to handle the onslaught of other players in the sector," Andrew Milroy of Frost & Sullivan told the BBC.
"The entry of players such as Samsung and brands from China has made life difficult for them."
'Been trumped'
The Taiwanese smartphone maker has seen its fortunes slump in recent months.
Its net profit plunged by 70% in the first quarter from a year earlier. Revenue during the period also dropped by 35%, raising fears that it was losing out to rivals.
The firm also came under criticism for not keeping pace with rivals in launching new models of its handsets.
In a bid to regain its market share, HTC announced the launch of new models earlier this year.
But rivals such as Samsung also introduced new smartphones in the market at the same time, which analysts said had hurt HTC.
"Maybe the timing of the new release hasn't been perfect - it has been trumped by the launch of Samsung's new galaxy range, which has been getting rave reviews," said Mr Milroy.
However, he added that demand for Android-powered smartphones had been growing steadily and, given that HTC was one of the early leaders in the sector, the firm could make a strong comeback in the near future.
"HTC can still turn around its fortunes - it is not rocket science to do that."
Beyond control?
However, some analysts argue the dip in HTC's sales was also due in part to the slowdown in the global economy.
The eurozone is battling with a sovereign debt crisis and high rates of unemployment in many member states, which has dented consumer sentiment and hurt demand.
Similarly in the US, one of the biggest markets for HTC, unemployment is a key issue, while its economic recovery remains fragile.
"If the reason is more because of the macro concern, then it's not in the control of the company, no matter how good its products are," said Bonnie Chang, an analyst from Yuanta Securities.
"It can even affect the business of Apple."