Disney to cut junk food ads on children's programming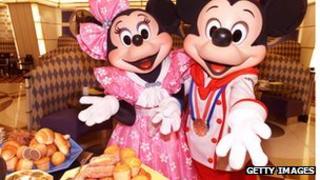 Disney says it has set new standards for food advertising on children's outlets banning junk food promotions.
It says it will only allow promotion of foodstuffs meeting national guidelines .
Federal standards promote fruit and vegetables and call for limiting calories, fat, salt and sugar.
Disney, whose programmes are broadcast on its own channels and website as well as on the network giant ABC, says the move makes it the first major media company to introduce such standards.
Certain advertisers whose children's menus are currently being promoted on Disney outlets would not meet the new guidelines, although Disney would not say which companies would fail.
Disney will be assessing the restaurant's broader offerings in deciding whether to approve a campaign.
US First Lady Michelle Obama has backed the plan, calling it a "game changer".
She said in a statement: "With this new initiative, Disney is doing what no major media company has ever done before in the US - and what I hope every company will do going forward."
Mrs Obama's Let's Move initiative campaigns to reduce childhood obesity rates, which have tripled over the past 30 years.
Contracts
The new rules cover food and beverage products advertised, sponsored, or promoted on Disney Channel, Disney XD, Disney Junior, Radio Disney, and Disney-owned online destinations aimed at families with younger children.
They will not apply fully until 2015 because of existing contracts with advertisers.
Robert Iger, chairman and chief executive of the Walt Disney Corporation, said: "The emotional connection kids have to our characters and stories gives us a unique opportunity to continue to inspire and encourage them to lead healthier lives."
Disney introduced its first set of nutritional standards in 2006.