Qantas forecasts profit to slide by up to 90%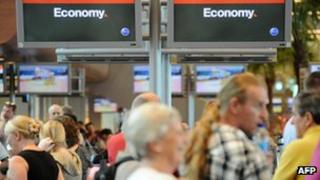 Qantas said it expects its profits to fall by as much as 90% amid growing losses at its international operations and its "highest ever fuel bill".
It has forecast a profit before tax of between A$50m ($48.6m; £31.6m) and A$100m for the year ending 30 June.
That's down from a profit before tax of A$552m during the same period a year earlier.
The firm's shares dropped as much as 18% on the Australian Securities Exchange after the profit warning.
"The forecast result reflects the recent deterioration in global aviation operating conditions driven by the European economic crisis, the Group's highest ever jet fuel bill, and substantial capacity increases in the domestic market that have reduced yields," Qantas said in a statement.
The airline said that fuel costs for the period are expected to rise to A$4.4bn, an increase of approximately A$700m from the same period a year earlier.
'A lot of trouble'
One of the biggest areas of concern for Qantas over the past few years has been its international operations.
The division has been hurt by slowing demand in its key markets as well as higher costs of operation.
The firm said that losses at the division are expected to more than double to A$450m in the financial year ending 30 June.
To make matters worse, the division was also hurt by strikes last year, which resulted in Qantas grounding its entire fleet in an unprecedented move and resulted in millions of dollars in losses.
"They are in a lot of trouble with their international operations," Siva Govindasamy of Flightglobal told the BBC.
"The problem is that the competition has increased, which has put pressure on ticket prices, while the costs of operation including fuel have risen. It is a big struggle for their international business."
Restructuring exercise
Qantas has already announced plans to split its international and domestic operations into separate entities in a bid to streamline its operations.
It has also taken a slew of measures to try and stem the losses and cut costs at its international division.
The firm has withdrawn its services from loss-making international routes, while increasing its capacity on the profitable ones. It has also announced plans to cut jobs as part of the restructuring exercise.
"We continue to practice disciplined financial management," chief executive Alan Joyce said in a statement.
"We remain focused on returning Qantas International to profitability in 2014."
However, some analysts said that even though the firm had been taking steps to reduce its costs, it will have to overcome various external challenges, including a volatile global economic environment to meet the profitability targets.
"At this point, I think that still looks optimistic but not impossible," said Greg Fraser of Fat Prophets in Sydney.