UK manufacturing in 'worst performance for three years'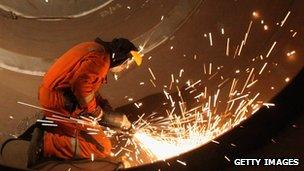 The UK's manufacturing sector turned in its worst performance for three years in May, according to a survey.
The Markit/CIPS manufacturing Purchasing Managers' Index dropped to 45.9, down from 50.2 in April. A reading below 50 indicates contraction.
Manufacturers cut back on output, employment, purchasing and inventories, said the report .
The news follows the British Chambers of Commerce's revision of its UK 2012 growth forecast down from 0.6% to 0.1%.
Ross Walker, an analyst at RBS, said: "This is a collapse, this is a huge decline.
"We're still a little bit above the lows we hit in the depths of the 2009 recession, but we're heading that way sharply."
'Broad-based decline'
The index fell 4.3 points in May, the second-steepest fall in its 20-year history.
The industrial sectors particularly hit included chemicals and plastics, electrical, mechanical engineering, textiles and clothing, and transport.
"It's hard to dispute that there's some real broad-based decline going on," added Mr Walker.
"It certainly suggests the economy is not going to bounce back in [the second quarter]."
Alan Clarke, analyst with Scotiabank, said: "A fall had been likely given the early warning we got from the eurozone, but a fall of this magnitude, underpinned by a collapse in the orders, is really worrying."
While manufacturing accounts for only 10% of UK GDP, some analysts believe the disappointing figures will put more pressure on the Bank of England's Monetary Policy Committee to restart its policy of quantitative easing.
This is the process of buying up government and other securities to boost the money supply and promote institutional lending.