European Commission supports UK deficit-cutting course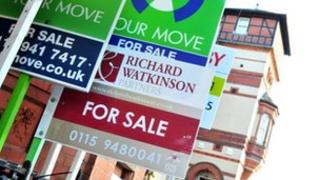 The UK government should continue on its current course to reduce its "excessive" budget deficit, the European Commission has said.
The commission also said it should prioritise spending for growth due to the weakening economic outlook.
As a result of worsening growth prospects, it expects the UK to miss a key deficit target by a year.
The deficit will not fall to the required 3% of economic output until 2015-6, from last year's 8.3%, it said.
The UK's deficit - the amount it spends more than it gets in - has been brought down from more than 11% of GDP in 2009-10.
The commission expects growth to remain "subdued" this year at 0.5%, then pick up in 2013.
This is more pessimistic than the government-appointment Office for Budget Responsibility, which currently predicts growth of 0.8% this year, as well as 2% growth in 2013.
'Uncompetitive'
A Treasury spokesman said the commission's comments "show their backing for the UK's plans to deal with its debts in line with what the IMF and OECD".
Measures recognised by the commission include efforts to tackle the high level of youth unemployment and measures to improve the availability of bank lending to businesses. Although it said both were still substantial problems.
However, it said the current high level of house prices and the resulting high levels of household debt were having a "destabilising impact" on the economy. As a result it recommended significant efforts to increase the supply of housing, as well as changes to stamp duty.
It also pointed out that household finances are vulnerable to interest rate rises, a large proportion of homeowner are on variable-rate mortgages.
In the long-term, it recommended improvements in the UK's transport and energy infrastructure, important for growth as well as improving the "lack of external competitiveness in manufacturing".
It said this could be done by improving the planning process and making the most of public-private finance.
But Labour's shadow chief secretary to the Treasury, Rachel Reeves, said: "Bringing forward infrastructure investment now would help to boost an economy that's been pushed into a double-dip recession by this government's mistakes.
"It's what the IMF called for last week and what Labour has been demanding in its five-point jobs plan."
Rates action
The commission's recommendations are part of an annual health check of all European Union members. They will go to the national leaders on the European Council who will then vote on whether or not to adopt them.
They come a week after the International Monetary Fund warned that the government would have to consider delaying spending cuts if UK economic growth failed to pick up.
The IMF also said the UK should contemplate more quantitative easing (QE) and even cutting interest rates.
QE is the means by which the Bank of England attempts to boost bank lending, and therefore wider economic growth, by injecting new money into the financial system.
UK interest rates are currently set at a record low of 0.5%, where they have been for three years.