Hedge fund boss Alberto Micalizzi fined £3m by FSA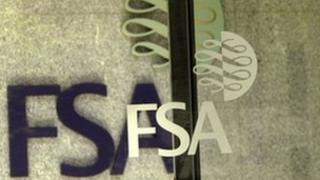 Hedge fund boss Alberto Micalizzi has been fined £3m and banned from working in finance by the City regulator, the Financial Services Authority (FSA).
The penalties are for concealing losses of $390m (£250m) and lying to investors in late 2008.
Mr Micalizzi and DDCM are referring the decision to the FSA's Upper Tribunal, which may overturn it.
In a statement, Mr Micalizzi said he was confident the tribunal would see the FSA's conclusions did not add up.
He also criticised the FSA for announcing its decision before the tribunal hearing.
At the time, Mr Micalizzi was chief executive of Dynamic Decisions Capital Management (DDCM). It is the biggest fine imposed by the regulator on an individual not involved in market abuse.
The FSA said it had also decided to cancel DDCM's permission to carry out regulated business.
The FSA's ruling said: "Mr Micalizzi's behaviour is amongst the most serious that the FSA has encountered," describing him as demonstrating "a total lack of honesty and integrity".
It said that Mr Micalizzi's fund hid its losses by buying a bond and then artificially revaluing it to create a $400m gain.
It also said that Mr Micalizzi deliberately concealed the true value of the fund from a new investor who had invested $41.8m.
'Woefully short'
The fund was liquidated in May 2009 with $10m left in its kitty and no payments have been made to investors since then.
"Alberto Micalizzi's conduct fell woefully short of the standards that investors should expect and behaviour like his has no place in the financial services industry," said Tracey McDermott, the FSA's acting director of enforcement and financial crime.
In his statement Mr Micalizzi said he had relied on "a sophisticated structure of service providers and market participants to conduct an ongoing due diligence of the bond transaction".
The FSA banned and fined DDCM's compliance officer Sandradee Joseph in a related case in November 2011.
The Serious Fraud Office ended its criminal investigation into the DDCM case in July 2010 due to lack of evidence.