Jaguar wins key ownership award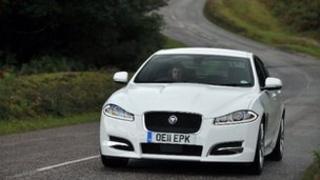 Jaguar has been named the UK's number one carmaker in an influential ownership satisfaction study.
The UK carmaker beat Toyota's luxury car subsidiary Lexus, which had held the title every year for 11 years.
In the individual models category, the Jaguar XF came second after the Korean model Kia Sportage.
"This study shows that customers are really satisfied with their Jaguars," said What Car? editor-in-chief Chas Hallett.
The study, which is carried out by What Car? in partnership with JD Power, surveys some 18,000 car buyers once they have owned their vehicles for an average of two years.
The study measures customer satisfaction with both the cars and the service they get from dealers. The customers are asked about their views on vehicle appeal, quality and reliability, as well as about costs.
Jaguar Land Rover UK's managing director Jeremy Hicks said the title would be "another tool in our armoury".
"Things like this have a long burn life," he told BBC News in an interview.
"It rests in consumers' minds when it comes to making purchasing decisions."