UK home sales lift fails to last, HMRC figures show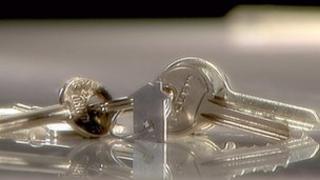 Sales of homes in the UK failed to stay on a spring high in April, tax authority figures show, while prices in March also recorded a fall.
Some 65,000 homes were sold in April - a sharp drop from 88,000 in March, according to HM Revenue and Customs (HMRC).
This was 4,000 fewer than the same month a year earlier.
UK house prices fell by 0.4% year-on-year in March, the Office for National Statistics (ONS) said.
Spring bounce
There is generally a rise in sales in the spring as warmer weather encourages some potential buyers to go house-hunting.
However, key to a rise in March this year was the stamp duty exemption for first-time buyers buying homes valued at between £125,000 and £250,000 which came to an end after two years on 24 March.
That spike only lasted for one month, the HMRC figures show, with sales activity now back to the subdued levels of recent years compared with the housing boom.
One estate agent, Henry Pryor, said that sellers need to be realistic on price in the current market.
"The credibility gap between typical asking prices and resultant sale prices means that many buyers are being mercenary when it comes to making offers," he said.
"Most have learned that an asking price is not necessarily a guide to current value and are often treating them derision. Selling has never been tougher."
Meanwhile, the ONS statistics continue to show a stagnant housing market in relation to prices.
In the year to March, average house prices fell by 0.3% in England and Scotland and by 10.7% in Northern Ireland. However, there was an increase of 0.4% in Wales over the same period.
On a regional level, in England prices fell the most (by 1.4%) in the south-east of England compared with a year earlier. Many other regions outside London and the South East have already seen price falls in recent months.
Prices rose most rapidly on a regional level in the south-west of England in March, up 2.2% compared with a year earlier.
Overall, the average price of a home in the UK was £225,283 in March, the ONS said.
The ONS recently took over collating the government's preferred house price data from the Department for Communities and Local Government.