Business bleak in Calcutta despite political change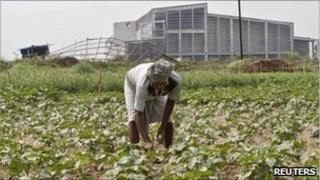 "I'm useless as an electrician, as there are no factories here and I'm useless as a farmer, as I have no land left," says an angry Munimohan Bangal.
A 29-year-old farmer in Singur in West Bengal, his family gave up seven bighas (nearly 2.5 acres) of land for the first big industrial project in the region.
Tata Motors set up a plant here to make its low-cost Nano car and planned to make 250,000 cars a year. Their investment attracted many smaller auto ancillary companies that also built their units here.
For months, the area was a hub of dusty industrial activity - hundreds of construction trucks brought in cement, bricks and sand.
All this brought the promise of jobs for the surrounding villages.
Some lucky ones, like Mr Bangal, were recruited to be trained in the factory. He was even employed as an electrician to work in the car plant.
On the promise of money and a job, he sold his land willingly. But the industry was operational for just two months. Violent protests drove the Tatas away from here.
Now all that's left is bits of equipment amid overgrown weeds. Rows of warehouses and industrial sheds lie abandoned alongside the road.
Land dispute
West Bengal's former communist government acquired 1,000 acres of land for the project in 2006.
More than 10,000 farmers accepted compensation for their land, but just over 2,000 of them refused and demanded their land back.
A year ago, Indian politician Mamata Banerjee made history when she ended 34 years of communist rule in West Bengal. She came into power as chief minister of the state with an agenda of economic reform.
The feisty leader, one of India's most powerful politicians, made a campaign promise to restore the land to the farmers from whom it was taken away. Farmers in the area were responsible for voting her into power.
But now, one year on, many farmers are still waiting for the land to be restored.
Meanwhile, the Tatas took their investment to Gujarat in Western India and the land here is stuck in litigation.
Mr Bangal says he is unsure of his future.
"All we now have is a small patch of land which is barely enough to grow vegetables for the family's use," he says.
"Our only source of income - our fertile land - has been built upon and is now useless for cultivation. We gave up our land with the promise of employment for us and our children, now we have nothing."
Reform halted
Many companies are now worried that the entire state of West Bengal seems to be in a policy paralysis.
Recently, US Secretary of State Hillary Clinton chose to stop over in Calcutta as part of her Indian tour.
Mrs Clinton said she had come to urge Ms Banerjee, the most fiery critic of retail reforms, to clear the roadblocks for foreign direct investment in retail.
But that was not to be. Ms Banerjee, an ally of the central government, has so far failed to support many crucial economic reforms, including much-delayed plans to bring foreign supermarket chains into India.
Land has been the biggest issue in West Bengal.
In what was seen as an anti-industry move, the new government announced that it would not acquire land for private projects, asking industrialists to buy it directly from landowners instead.
The chief minister announced that she was against the policy of special economic zones (SEZs), a controversial provision which has brought in rapid investment and created thousands of jobs in other states.
This affected two big IT investments in the state by top technology companies Infosys and Wipro.
They were due to set up huge campuses in Rajarhat, in the outskirts of Calcutta. The companies hoped to create employment for 30,000 people through this investment.
Since the Chief Minister refused to accord them SEZ status, both projects are now stuck.
The one positive move has been that in April this year, the government passed legislation relaxing land laws.
The West Bengal Land Reforms act will allow infrastructure projects and manufacturing plants to buy land to expand their business. But it hasn't been enough to appease investors.
Industrial woes
Meanwhile, in an old factory near Calcutta, workers are cutting sheets of wood to build parts of cooling towers, structures that are in great demand by other industries.
Cooling towers remove heat and transfer it to the surrounding atmosphere. They are used in oil refineries, thermal power stations and other air conditioning units.
Factories such as this one have been around for generations, set up when West Bengal was a hub of business activity in India.
Paharpur Cooling Towers has its headquarters in Calcutta. But now fewer than 10% of its orders come from within the state.
Industrialists are worried about the deteriorating economic climate and little has been done to foster new investment.
"My father set up the company in West Bengal five decades ago, when it was the hub of economic activity," says its managing director, Gaurav Swaroop.
"But today, if I had the money to do it all over again, I'd go wherever it makes business sense to be.
"There are other states in India which have progressed much more. West Bengal has to be more competitive than the most competitive state if it wants to attract investment."
Ms Banerjee came into power with a promise of change. But she is struggling with a legacy of debt left behind by over three decades of communist rule in the state, which she says has given her less room to manoeuvre.
Speaking to the BBC, she said: "My treasury is empty. All of my government's revenue goes to pay salaries and interest on a two-trillion-rupee ($40bn) debt."
Paint job
Back in Calcutta, there is a concerted effort to give the city a facelift. Workers are giving a fresh coat of paint to the metal dividers on the main streets.
They are being painted blue and white - the colours of the Trinamool Congress Party which Ms Banerjee leads.
Piped music - songs of legendary Bengali poet Rabindra Nath Tagore is played at traffic signals.
A 2km stretch of the Hooghly riverfront is being painted, too. New wrought iron benches and art work are being installed to beautify it.
Many are worried that the government's priorities seem to be misplaced. Deeper reforms are needed to boost tax revenues and pay the burgeoning bills.
For all the changes that have happened, experts say that it'll take more than a paint job to attract business.