Pinterest to get $100m boost from Rakuten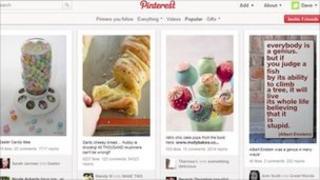 Social networking service Pinterest is to receive $100m (£63m) in funding from Japanese internet retailing giant Rakuten and existing investors.
Rakuten said the money would be used to improve Pinterest's service and expand its user base.
Analysts subsequently put a value on the two-year-old company of $1-1.5bn.
The investment comes as Facebook prepares to list on the Nasdaq stock exchange in a share sale that could value the company at more than $100bn.
Facebook recently agreed a deal to buy picture sharing website Instagram.
Pinterest also allows users to share pictures, by offering what it calls a "virtual pinboard", allowing users to post pictures and other content onto a personalised profile.
Pinterest has grown rapidly and with 12 million users is now one of the most visited sites in the US.