Chinese gold demand hits record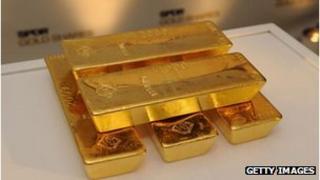 Chinese demand for gold hit a record in the first quarter of 2012, according to the World Gold Council (WGC).
Chinese demand for jewellery and gold as an investment hit 255.2 tonnes in the period, helped by purchases during the Chinese New Year holiday.
The WGC said inflation and restrictions on the property market were likely to boost demand further.
But overall, global demand fell 5% to 1,097.6 tonnes, which the WGC blamed on a sharp rise in gold prices.
The average price of gold was $1,690.57 per ounce in the first quarter, which was 22% higher than the first quarter of 2011.
"Reduced demand in gold from jewellery, technology and official sectors more than offset growth in the gold investment demand," the WGC said in its quarterly report.
India - traditionally one of the world's most important gold markets - saw demand fall. A rise in the import duty on gold and a new excise duty on gold jewellery hit demand.
Jewellers went on strike in reaction to the new tax which prompted the government to abandon the measure.