Federal Reserve worried about impact of US spending cuts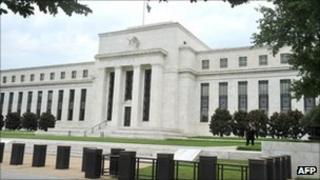 The Federal Reserve is worried about the impact on the US economy if government spending is cut sharply.
"The possibility of a sharp fiscal tightening in the United States was also considered a sizable risk," the US central bank said in the minutes of its April meeting .
Automatic budget cuts that will slash $1.2tn (£754bn) will happen at the end of this year if a budget deal is not reached.
The Fed held rates at a record low.
"If agreement is not reached on a plan for the federal budget, a sharp fiscal tightening could occur at the start of 2013," the minutes said.
"Uncertainty about the trajectory of future fiscal policy could lead businesses to defer hiring and investment."
After a fierce political debate that saw budget talks go to the wire, Republican and Democratic leaders reached an agreement in August 2011 on raising the US debt limit and avoiding a first default.
Under the agreement, the US deficit will be reduced by at least $2.1tn over 10 years.
The House of Representatives Republican leader, John Boehner, has indicated he is again prepared to battle President Barack Obama over the budget.
The Fed has vowed to keep rates at "exceptionally low levels" all the way to late 2014.
"Several members" of the Fed also said, the minutes showed, that additional support could be needed if the economic recovery lost momentum.