Greece to pay hold-outs who rejected bond swap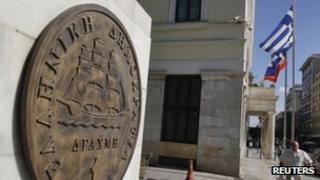 Greece has agreed to pay off some of the investors who rejected its bond swap earlier this year.
It completed the largest restructuring of government debt in history when banks and funds agreed to swap most of their debt for bonds worth much less.
But holders of some 6.4bn euros ($8.2bn; £5.1bn) refused to swap their debt.
On Tuesday, Greece said it would make a "timely payment" on 435m euros' worth of debt due on 15 May.
But it is an open question on whether Greece will be able to afford paying the rest of the 6.4bn euros of debt - or whether there is the political will.
The funds hope Greece will think the amount is so minor that it is not worth defaulting on - but this may lead to legal challenges from those who accepted the deal.
The announcement came as it was revealed that a final round of talks on Tuesday between Greek political parties broke up without a deal, raising the prospect of new elections.
Shares fell sharply across Europe after that, but recovered to close slightly lower on the day.
In elections on 6 May, a majority of Greek voters backed parties opposed to austerity plans that are part of two bailouts agreed with the European Union and IMF.
Debt swap
The debt swap in February was also part of that deal.
Under the debt swap, banks and other financial institutions agreed to exchange their existing Greek government debt for new bonds, which are worth much less and pay a lower rate of interest.
But the holders that did not take up the deal want payment on their original debt - raising the possibility that Greece would default on its pre-bailout debt.
Greece had extended the deadline twice to get holders - including so-called distressed debt "vulture" funds - to agree to the swap.
"The decision weighed carefully all relevant factors and implications as well as the current conjuncture," the Greek Finance Ministry said.
"Today's decision does not prejudice future decisions on the treatment of the remaining bonds not tendered" in the debt swap.
The debt swap involved 172bn euros worth of bonds, according to the Greek government website, about half of the total Greek debt, with investors taking a total loss of up to 74%.
The aim was to cut the Greek government's debt from 160% of GDP to a little over 120% of GDP by 2020.