US retail sales slow sharply in April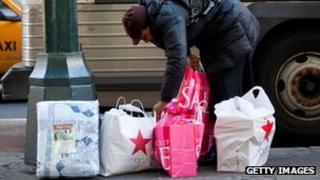 US retail sales barely grew in April, rising 0.1% from March's level, while consumer prices were unchanged.
Excluding petrol sales, the Commerce Department said consumers increased spending by just 0.2% last month.
The US Labor Department said that the seasonally adjusted consumer price index was flat in April, after a 0.3% rise in March.
Annual inflation in April was 2.3%, the lowest rate for a year. That is close to the Federal Reserve's target of 2%.
Last month, the Fed repeated its intention of keeping its key interest rate at a record low for the next two years at least.
Retail sales figures are a closely-watched statistic as consumer spending accounts for about 70% of the US economy.
Some of the weakest sectors last month included building materials and gardening equipment, where sales fell 1.8%, and clothing, where sales were down 0.7%.
The increase in sales during March was downgraded to show a rise of 0.7%, compared with the original estimate of an 0.8% rise.
The US economy was measured as growing at an annualised pace of 2.2% in the January-to-March quarter. This was down from the 3% increase recorded in the October-to-December period, but faster than last year's 1.7% growth rate.