Bharti Airtel investigated for money laundering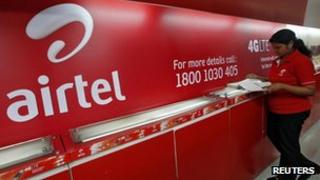 Telecoms giant Bharti Airtel is being investigated by Indian authorities for money laundering and breaking foreign exchange rules, a minister has said.
Junior Finance Minister S Palanimanickam said the Directorate of Enforcement was investigating the case, but gave no further details.
Bharti Airtel shares fell 5% in early trading but recovered quickly to end the day down 1%.
The company said it was co-operating with authorities.
"We have already provided all relevant details asked for by the relevant authorities in this matter and will be happy to co-operate further, should the need arise," it said in a statement.
Bharti operates across 20 countries in Asia and Africa and claims to have almost 250 million customers.
The company, which was a pioneer for low-cost telecoms in India, is controlled by billionaire Sunil Mittal.