Tesla Motors brings forward Model S release date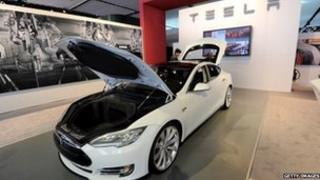 US electric car maker Tesla Motors has brought forward production of its new car, pushing its shares up 11%.
The company said it was close to completing safety tests on its Model S saloon and could begin delivering the car to customers in June, a month earlier than expected.
Tesla expects 90% of its revenue to come from the Model S this year.
In mid-morning trade, its shares rose $3.15 to $33.19.
"We plan to continue making customer deliveries on a slow, methodical ramp, and remain confident in our target of 5,000 vehicle deliveries by year end," chief executive Elon Musk said in a letter to shareholders.
Tesla reported a first-quarter net loss of $89.9m (£55.6m), compared with $48.9m for the same period a year ago.
Revenue was $30.2m, down from $49m last year, reflecting the end of Roadster sales in North America.
But the positive production news prompted Tesla to lift its full-year revenue outlook by $10m.
It now expects full-year revenue to be between $560m and $600m.
Analysts have been waiting to see if the launch of the Model S will finally transform the loss-making Tesla into a profitable company.