Tepco shares surge as government takes control of firm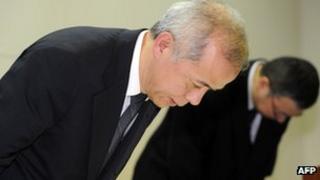 Tokyo Electric Power Company (Tepco) shares have surged after the government approved its business plan and said it would take control of the firm.
Tepco shares jumped as much as 15% to 211 yen on the Tokyo Stock Exchange.
On Wednesday, the government said it would inject one trillion yen ($12.5bn; £7.8bn) into the firm and acquire a controlling stake.
Tepco has been facing billions of dollars in compensation claims and there were fears the firm may collapse.
"Tepco has become a partially nationalised company and nationalised firms do not default," Martin Schulz of Fujitsu Research Institute in Tokyo told the BBC.
"It also means that banks can keep providing future loans to the company, which is key to its operations."
Higher costs
Tepco owns the Fukushima Daiichi nuclear plant which saw radiation leaks after it was damaged by the earthquake and tsunami in March last year.
As a result, almost 80,000 people had to be evacuated from nearby areas. The firm is facing compensation claims from residents as well as businesses that had to relocate.
To make matters worse, Tepco has seen its operation costs rise after the shutdown of nuclear reactors in Japan.
The firm, which provides electricity to some of Japan's most economically important areas, has had to turn to thermal power stations instead.
These plants require fuels - such as coal, oil and natural gas - which are relatively more expensive to operate, putting pressure on the firm's costs.
That resulted in Tepco raising electricity prices for commercial clients earlier this year, for the first time in 30 years.
The higher operation costs and compensation claims are expected to cost the firm more than $100bn.
Analysts said the firm may need even more funds in the near future.
"There are still many holes to fill in terms of the total money that it will need to pay for the clean-up," said Mr Schulz of Fujitsu Research Institute.