Pound at 1.20 euros for tourists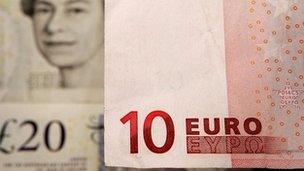 Leading bureaux de change are selling euros at a rate of 1.20 to the pound for the first time in three and a half years.
The jump reflects worries about the eurozone in the wake of the Greek and French elections.
But the result is that British travellers are getting 10% more for their money than a year ago.
Travelex is offering 1 euro 20.8 cents and the Post Office is paying 1 euro 20.7 cents.
The exchange rate for travellers was last above 1.20 on 4 November 2008.
High Street banks are still offering lower rates, but some specialist money-changing services will pay even more.
The rate at certain Sainsbury's stores has risen to 1 euro 21.19 cents.
'Safe haven'
Chris Towner, at specialist foreign currency firm HiFX, predicted that the pound should strengthen further.
"It is at very tempting levels, but sterling is still undervalued against the euro," he said.
"It should reach 1 euro 27, or 1 euro 28, in the coming months."
Richard Driver, at Caxton FX, said the pound should rise further in the coming months.
"We've seen sterling climb this year as the European debt crisis has come to a head."
"Sterling has a pretty decent safe-haven status - we think it will reach 1 euro 30 by this autumn."
The pound is recovering value that it lost in a market rout during the 2008 financial crisis.
In late 2008, the pound fell from 1 euro 30 cents to just 1 euro and 2 cents. Against the dollar it fell from $2 to $1.37.
But, in contrast with the troubled euro, the dollar has proved far more resilient.
The pound has remained stuck between $1.50 and $1.70 for almost two years.
Worries about the euro's future have only begun to weigh on its value since late last summer.
The perceived strength of the German economy still continues to support the currency.
However, the ECB's decision to cut interest rates late last year has made the euro less attractive to investors.
The eurozone is expected to dip back into recession this year, making it even less attractive.