HSBC profits fall on debt revaluation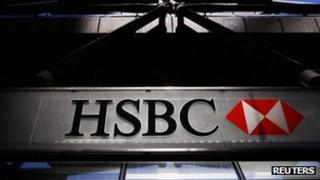 HSBC has announced a fall in profits after the company revalued the amount of debt on its books.
Pre-tax profit for the first three months of the year was $4.3bn (£2.7bn), down 12% on the $4.9bn the bank made a year earlier.
However, revenue and underlying profits increased sharply and the bank said it had made a "good start to the year".
Last month, the bank announced it was cutting 2,200 jobs in the UK as part of its global cost-cutting plans.
The move, which had been expected, is part of 30,000 job cuts the bank is making worldwide by 2013 as it looks to save $3.5bn worth of annual costs.
'Volatile'
Europe's biggest bank said underlying profit in the first quarter increased by 25% to $6.8bn, driven by increased revenues in investment and commercial banking.
Revenue at its retail banking and wealth management divisions in emerging markets also grew, it added.
However, the bank was hit by a $2.6bn revaluation of its debt.
"We continued to make good progress in implementing our strategy, with 11 transactions to dispose or close businesses announced since the start of 2012, and we continued to position the business for growth with increased revenues in Hong Kong, Latin America and the rest of Asia Pacific," said group chief executive Stuart Gulliver.
"Markets remain volatile with high levels of debt and regulatory and political uncertainty in developed economies, contrasting with the outlook in faster-growing markets."