GE in tie up with XD Electric as it eyes China's market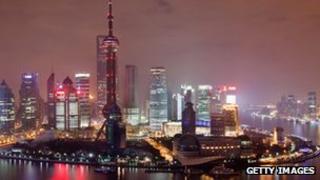 General Electric (GE) has announced a tie-up with China's XD Electric to tap into China's fast growing market for electric transmission and distribution.
GE has agreed to buy a 15% stake in XD, one of China's largest makers of power transmission and distribution equipment.
Beijing is looking to expand its electricity infrastructure to cater to rising demand as China's economy grows.
China is the world's second-largest economy.
"This is the beginning of an important relationship between two companies with complementary product lines and commitments to technology," Bob Gilligan, president and chief executive of GE's Digital Energy business said in a statement .
"It will enhance GE's ability to provide end-to-end transmission and distribution solutions and expand our presence in the fastest growing regions of the world."
Though GE did not provide details of the amount it will pay for the stake in XD, the Financial Times and Reuters news agency reported that the figure was close to $535m (£330m).
Global demand
The demand for electricity transmission and distribution equipment is expected to grow in the coming years, driven both by developing as well as developed economies.
As emerging and developing economies such as China and India grow, more people are expected to move from rural to urban areas, increasing demand for power.
There is also a push to develop rural and interior areas, which is expected to result in more demand for electricity and the need for adequate equipment to transmit and distribute it.
At the same time many developed economies are also looking at ways to upgrade their distribution systems.
The two firms said the tie-up will help ensure that they are able to get a substantial share of this increasing global demand.