UK companies remain optimistic, surveys suggest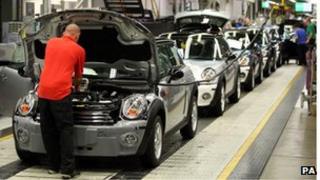 UK companies remain confident despite the UK economy entering a double-dip recession, two new surveys suggest.
Optimism among smaller manufacturers rose for the first time since the mid-2011, the business group CBI said.
And another survey - the UK Business Confidence Monitor - found confidence improved in the last three months, suggesting the UK will return to growth in the April-June quarter.
The UK shrank in the last two quarters, meaning it is back in recession.
But a net 22% of small and medium-sized enterprises (SMEs) who are manufacturers said they were more optimistic in the three months to April, the CBI said.
"Firms expect orders and output to rise strongly in the coming quarter and plan to invest more in the year ahead, pointing to growing momentum in manufacturing activity," said Lucy Armstrong, chair of the CBI's SME council.
The majority of respondents saw a slight rise in total new orders and expect to see faster growth over the next three months, the survey added.
Meanwhile, the latest UK Business Confidence Monitor from chartered accountants ICAEW and consultants Grant Thornton said that they saw increased confidence.
The BCM confidence index is 12, up from -9.3 in the last quarter and the highest level since the second quarter of 2011.
The increase implies economic growth of 0.6% in the second quarter, the organisations said.
"Turnover and profits are all increasing but nowhere near the rate seen pre-recession and businesses are beginning to realise that this environment may be the norm for some time," said Grant Thornton chief executive Scott Barnes.