Energy firm SSE fined £1.25m for mis-selling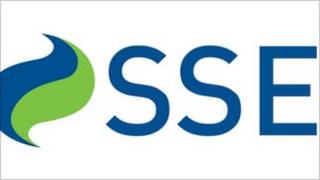 SSE has been fined £1.25m for tricking potential customers into switching from their existing energy firm.
SSE's sales agents had used misleading sales scripts when talking to people on their doorsteps, between September 2008 and July 2009.
The company was found guilty at Guildford Crown Court in May 2011, subsequently lost an appeal and has now been fined.
SSE said it was sorry and that the way it operated had changed.
It added that it would not appeal against the level of the fine.
Heavy fine
The case against SSE was bought by Surrey Trading Standards.
"It should send a message to the energy industry that deceptive, misleading and illegal sales tactics are not acceptable," said Steve Playle, investigations and enforcement manager for Surrey Trading Standards.
"Hopefully this fine will serve as a reminder that no matter how competitive the market, companies cannot lose sight of the law."
The original case heard that sales agents had told potential customers that they were paying too much to their current suppliers when this was not the case.
SSE was found guilty on two counts out of seven charges brought under the unfair trading practices regulations.
It was thought to be the first time that one of the big six energy firms has been prosecuted for using dishonest sales techniques.
The subsequent fine, which will go to the Treasury, is believed to be the largest fine ever resulting from any court case brought by Trading Standards.
'Unacceptable'
"We accept that a company of SSE's standing and with SSE's values should not have found itself in this position and we are very sorry that it did," said Stephen Forbes, director of sales, marketing and energy service at SSE.
"Energy sales in SSE have been transformed in the three years since this case started and customers should have absolute trust in SSE and complete confidence in the products and service we offer."
Audrey Gallacher, director of energy at watchdog Consumer Focus, said: "Firms must not be left to profit at the expense of customers who have been misled.
"A fine of £1.25m set by the court sends a very strong message to the energy industry that it must play fair by its customers and get it right on sales.
"Surrey Trading Standards should be applauded for its persistent pursuit of a guilty verdict. It is positive that since this case started, most energy firms have ended cold-call sales on the doorstep.
"Poor practices like this are unacceptable and drag the reputation of the energy industry further through the mud."
Richard Lloyd, executive director of consumer group Which?, said: "It is right that SSE has been punished for this bad practice, but this fine will not help all those customers who may have been signed up with their misleading script.
"SSE should waste no time in contacting all those customers who were affected, and compensate them for any financial loss they may have suffered."