Flooding lessons from village campaign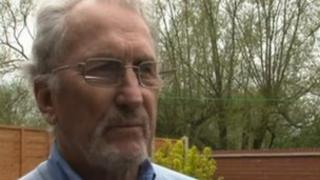 When floods hit the Warwickshire village of Broom five years ago, resident Patrick Howell says the devastation was like a "war zone".
"All the carpets had to come out, the furnishing had to come out. The whole street looked like a war zone, with everything piled in the front garden," says Mr Howell, who lives near the River Arrow.
But now, after a community campaign, the village boasts a recently completed £650,000 flood alleviation scheme.
Many neighbourhoods could now look here for inspiration after the wettest April in the UK for more than 100 years left thousands of homeowners across the country facing flooding.
But, even without a major investment in flood defences, there is action that householders can take to protect their property and their purse from being hit.
Preparations
For those who may be facing floods for the first time, some simple defences can be put in place.
Experts suggest:
Making sure important documents are in a plastic bag, somewhere safe, perhaps upstairs away from any water
Creating a flood pack - a bag that contains essential items - such as warm, waterproof clothing, wellington boots, a torch, some snacks and any essential medications
Writing a plan of where you can stay if the house becomes uninhabitable and what to do with the car at times of flood risk
Considering moving any valuables upstairs, rolling up any rugs, and if possible taking down curtains
One of the main worries for people living in flood risk areas is the rising cost of insuring their homes.
Paul Cobbing, of the National Flood Forum, says that people living in these areas should buy insurance in a different way to others.
"Do not use a comparison website. Phone up a few insurers, get some comparisons of costs, go back to them and see what they can do," he suggests.
A voluntary agreement between the government and the insurance industry means that those living in flood risk areas are guaranteed to be able to find an insurance product for their homes.
However, the agreement - which saw a statement of principles signed 12 years ago - is set to run out next year.
Matt Cullen, who is in charge of flood policy at the Association of British Insurers, says that if a replacement for the agreement is not found soon then up to 200,000 households could struggle to access affordable insurance.
Climate change
In Broom, the flood alleviation scheme was started in summer 2011 after the campaign by the Broom Action Group, and is designed to protect 42 properties against flooding from the River Arrow.
Flood walls and embankments covering 500m (0.3 miles) have been built by the Environment Agency.
The Agency said the scheme had been designed to reduce the possibility of flooding to a 1% chance in any given year.
A 20% allowance for an increase in flood flows due to climate change has been built into the scheme, a spokesman said.
It is an improvement for Mr Howell who, in 2007, got together with some neighbours to buy some individual flood defences for their homes.
He and the community believe the threat of flooding seems to have reduced, but they have learnt some valuable lessons.
Now they are hoping that the preventative measures put in place will keep the floods at bay.