RBS repays £163bn emergency loans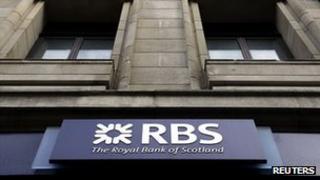 Royal Bank of Scotland is to say that as of next week, it will have repaid all the £163bn of emergency loans it received from UK and US taxpayers, BBC business editor Robert Peston says.
The announcement is expected when the bank reports its first-quarter results on Friday.
The government still owns 82% of shares in the bank.
Lloyds has also said it will have repaid all its emergency borrowing from UK taxpayers by the end of the year.
Lloyds' borrowing peaked at £157bn.
RBS is also expected to follow Lloyds and say it will set aside more money to cover payment protection insurance (PPI) misselling claims.
The bank could increase its provision by £125m.
Collectively, UK high street banks face a bill of £8bn for misselling PPI.
Both RBS and Lloyds took out the emergency loans at the height of the financial crisis.
In total, RBS received:
£75bn from the credit guarantee scheme - bonds issued by banks that are guaranteed against default by the Treasury - and the Bank of England's special liquidity scheme
£36.6bn in emergency liquidity assistance from the Bank of England
$84.5bn (£52.4bn in today's money) from the US Federal Reserve
So its peak disclosed borrowing from government-backed schemes was £163.84bn - all of which will be repaid as of next week.
It also paid the UK Treasury between £1bn and £1.5bn in fees for the credit guarantee scheme, making the taxpayer a profit on that particular intervention.
RBS is still receiving some central bank support via the 10bn euros of cheap three-year loans from the European Central Bank's long-term refinancing operation (LTRO).
But our correspondent says the bank insists that the LTRO is an opportunistic way for it to get cheap funding, rather than emergency assistance.
Hundreds of banks across Europe have accessed funding via the LTRO.