General Motors posts fall in profits on European loss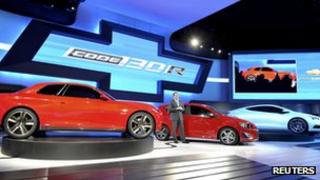 US car giant General Motors (GM) has reported a sharp drop in quarterly profits, in part due to its loss-making European operations.
Net profit for the first three months of the year was $1.35bn (£830m), compared with $3.41bn a year earlier.
GM Europe made a loss of $300m in the period, compared with breaking even a year ago, while goodwill adjustments reduced profit by $600m.
However, record demand in China helped push overall revenue up 4% at $37.8bn.
GM shares fell by almost 2% in early trading in New York following the publication of the results.
Record profits
"The US economic recovery, record demand for GM vehicles in China and the global growth of the Chevrolet brand helped deliver solid earnings for General Motors," said GM chief executive Dan Akerson.
"New products are starting to make a difference in South America, but Europe remains a work in progress."
The carmaker also raised its sales forecast for this year, estimating sales of 14 to 14.5 million vehicles compared with its previous estimate of 13.5 to 14 million.
Last year, GM made record profits of $7.6bn, but lost $700m at its European division, which includes its UK Vauxhall plants in Ellesmere Port and Luton.
The firm saw sales rise to more than nine million vehicles.
In 2009, the firm filed for Chapter 11 bankruptcy protection and received a $50bn bailout from President Barack Obama's administration.