Spain sells more bonds but at higher rates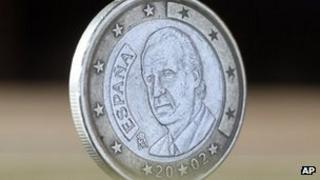 Spain, which many investors worry will be the next eurozone country to need help, has successfully sold 2.52bn euros ($3.3bn, £2bn) of debt but at much higher interest rates.
The Bank of Spain sold three-year bonds at average yields of 4.04%, up from 2.6% at its last sale on 1 March.
The central bank beat its targets for how much to sell.
Separately, producer prices in the eurozone rose by 3.3% in March, from 3.6% the previous month.
Producer-price inflation in the 17 nations that use the euro has slowed for the last six months, according to data from the Eurostat statistics agency.
Record unemployment
The Bank of Spain also sold two categories of five-year bonds, with yields of 4.75% and 4.96%, up from 4.3% on 4 April.
Interest rates on 10-year Spanish bonds - the benchmark for borrowing costs - are edging closer to 6%, making it very expensive for the nation to borrow compared to its neighbours.
In another auction, France sold 7.4bn euros of 10-year debt for 2.98%, up slightly from the 2.96% rate sold at when it was last issued in April.
Spain currently has a record 24.4% of people out of work, at about 5.6 million. Unemployment in the eurozone reached a record high again in March as spending cuts continued to hit the working population.
Spain and Italy are both in recession and have seen borrowing costs rise, raising the prospect that they may need help or even bailouts.