Temasek to sell $2.4bn stake in two Chinese banks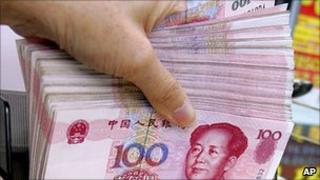 Singapore's Temasek Holdings is seeking to sell $2.4bn (£1.5bn) worth of its shares in Bank of China and China Construction Bank, two of China's biggest lenders.
The move comes as shares of the two banks have risen almost 14% this year.
However, profit growth at Chinese lenders has slowed recently amid tight controls on lending in the country.
This is the second time in 10 months that Temasek has sold shares in the two banks.
It offloaded $3.6bn worth of shares in the two firms in July last year.
Slowing growth
China's state-owned banks saw their profits surge in recent years as the government boosted lending in the country in a bid to sustain high levels of growth after the global financial crisis.
However, a surge in property prices and rising inflation resulted in policymakers shifting their focus from growth to keeping prices in check.
As a result, Beijing took various measures to curb lending in the country, which has left profit growth at the big Chinese banks slow.
Last month, Bank of China reported that its profit grew at an annualised rate of 10% in the first quarter of this year, compared with 28% growth during the same period last year.
Meanwhile, profits at China Construction Bank rose by 9.2% in the first quarter, from a year earlier, down from a 34% annual increase in 2011.
Shifting focus?
To make matters worse, Premier Wen Jiabao said earlier this year that Beijing needs to break the monopoly of the state-owned banks to boost growth in the banking sector.
There are concerns that as competition increases, profit margins at these banks may dip further.
Analysts said that given the likely change to China's financial sector, Temasek was keen to reshuffle its portfolio to protect its investment returns.
Last month, Temasek said it had agreed to buy $2.3bn worth of shares in Industrial and Commercial Bank of China (ICBC), taking its overall stake in the bank to 1.3%.
"They still want to be exposed to China's financial sector," Justin Harper of IG Markets told the BBC.
"However, they must have seen some value in ICBC that they do not see in these two banks."