UK economy will return to growth in second half, says CBI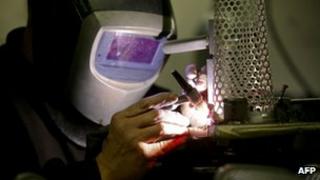 The UK economy will return to growth in the second half of 2012, with faster growth expected next year, the CBI business group has said.
But the CBI cut its growth forecast for the whole of 2012 from 0.9% to 0.6%.
Its revision was a "direct consequence" of data from the Office for National Statistics (ONS) which showed the economy shrank by 0.2% in the first quarter and returned to recession.
The CBI said optimism among businesses had picked up since January.
It added that demand for manufacturing was holding up, which was beginning to translate into more jobs and investment.
However it also pointed to "significant challenges" from the global economy, namely concerns about stability in the eurozone, high oil prices, and fragile confidence among businesses and households.
Olympics boost
The CBI now expects flat growth in the second quarter of 2012, dampened by the impact of the additional bank holiday for the Queen's Diamond Jubilee.
For the third and fourth quarters it predicts growth of 0.7% and 0.5% respectively, "reflecting an improving global economy and an expected easing in inflationary pressures, plus a slight boost from the Olympics and a bounce back from the second quarter".
It expects growth to pick up to 2% in 2013.
"Over the winter, the economy has been bumping along the bottom, and with the distortions from an extra bank holiday in the second quarter, is likely to stay that way until summer," said Ian McCafferty, the CBI's chief economic adviser.
"Nevertheless, business surveys suggest that underlying conditions are starting to improve, and that we should see more momentum in the second half of the year."
Meanwhile, a separate survey of business sentiment suggests the downturn in the UK will be brief.
The Lloyds Bank Business Barometer, which surveyed more than 300 businesses with a turnover above £1m, suggests the economy will return to growth in the second quarter of this year.