UK mortgage lending revival has ended, figures suggest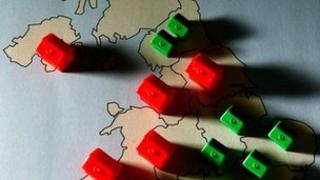 A spurt in mortgage lending at the start of the year has ended now a stamp duty concession is over, data suggests.
There were 49,860 mortgages approved for house purchases in March, showing little change from February, Bank of England figures show.
However, the total is down sharply on the 57,954 approvals in January.
The brief pick-up was likely to have been the result of increased demand from first-time buyers before a stamp duty levy was brought back.
The stamp duty exemption for first-time buyers who bought homes valued at between £125,000 and £250,000 came to an end after two years on 24 March. The government said it had been "ineffective" in increasing first-time buyer numbers.
Interest-only decline
The total number of approvals in March was below the average of the previous six months of 53,103.
"A dip in transaction levels was inevitable, suggesting we are not yet seeing a sustained recovery in the housing market," said Mark Harris, chief executive of mortgage broker SPF Private Clients.
The figures come as the Co-operative announced that it would no longer be offering interest-only mortgages.
The Co-op said demand had plunged for these products, even though they had accounted for 25% of home loans finalised by the lender in 2007.
That, and greater regulatory control, led it to decide to end the offer of these products from 8 May, it said.
Santander, Lloyds and Barclays have already made it much harder to qualify for an interest-only loan.
Meanwhile, the Bank of England figures showed a slight rise in the amount of unsecured lending to consumers, to £419m in March from £285m in February.
This included rises in lending on credit cards, as well as loans and overdrafts.