HMRC: Highest tax rates hit more than four million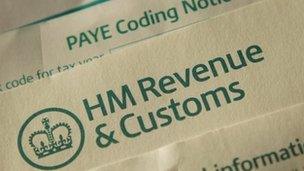 The highest rates of tax will be paid by 4.1 million people during this financial year.
HM Revenue & Customs forecasts that 3.8 million will be taxed at the 40% higher rate and a further 307,000 will be taxed at the 50% additional rate.
Overall that is a rise of 917,000, or 29%, from the number of people paying the lone higher rate three years ago.
The increase has been mainly due to cuts in the higher rate threshold which have snared more taxpayers.
John Whiting, of the Chartered Institute of Taxation (CIOT) said: "The combination of that happy couple, fiscal drag and cuts in the higher rate threshold, is pushing more people into the higher rates where they can contribute more to cutting the deficit."
The total number of income tax payers is scheduled to fall again this year, from 30.1m to 29.7m, as more of the lowest paid are excluded from paying income tax altogether, as the personal tax allowance is increased.
The result is that the number of people forecast to pay the basic rate of tax, at 20%, is being squeezed.
They will fall from 27.1 million in 2010-11 - a historical peak - to 24.8 million in the current financial year.
'Shocked'
Taxing the rich has recently been very controversial.
The 50% additional rate, which affects the top slice of taxpayers who were already paying the higher rate, was introduced by the Labour government in 2010-11, as a temporary measure to raise more money in the aftermath of the recession.
However, in the Budget in March, the coalition's Chancellor George Osborne decided to cut the additional rate to 45% in the next tax year, 2013-14.
He argued that it had largely been a waste of time and effort and had not raised sufficient extra income for the Exchequer.
A few weeks later, he proclaimed himself to be "shocked" at HMRC evidence that some of the UK's wealthiest people were able to get away with paying little or no income tax at all, by arranging their affairs quite legally to avoid it.
He used this to justify another Budget decision, to limit the extent to which donations to charity - supposedly a favourite ploy of the tax-dodging rich - can be offset against their taxable incomes.
The additional rate itself applies to individuals whose taxable income is more than £150,000 a year.
HMRC figures show that 6,000 people are expected to be taxed on incomes of between £1m and £2m, with an average tax bill of £591,000 each.
Meanwhile, just 2,000 people will be taxed on incomes of more than £2m, with an average tax bill of £1.98m each.
Together, these highest paid individuals are expected to hand over income tax totalling £8.1bn.
Potentially there is more to be had.
The chancellor said the HMRC's research showed that the 20 biggest tax avoiders had legally reduced their income tax bills by a total of £145m in one year.