Clydesdale shrinks, blaming downturn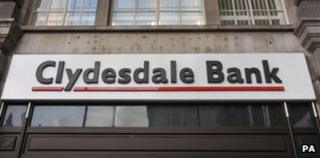 National Australia Bank has been reviewing what to do with its substantial UK operation, Clydesdale - which also owns Yorkshire Bank and operates mainly in Scotland and the north of England - since January.
Because of an economic downturn in the UK described by NAB's chief executive Cameron Clyne as "longer and slower to recover than experienced in the 1930s following the Great Depression", the bank has decided to cut 1,400 UK jobs, pull out of commercial property lending here and concentrate on retail and small business banking.
Mr Clyne says "heightened weakness in the eurozone" is "in part" to blame.
It also announced that the UK operation has fallen into a small loss, of £25m - and will take a charge of £150m for property loans going bad, blaming a double dip in the commercial property market.
But NAB has apparently rejected the option of selling Clydesdale and pulling out of the UK.
Earlier this year, it received a takeover offer for the business from NBNK, which is also trying to buy 632 branches from Lloyds, and turned it down.
A source at NBNK tells me that if its offer had been accepted, there would have been fewer job losses.
UPDATE 08:33 BST
As I am sure you know, what Cameron Clyne says about the longevity of this UK economic downturn is old news: economists have been pointing out for some time that if a depression is the period during which output remains below the previous peak, the UK is experiencing the longest depression since reliable records were compiled (and a longer depression than in the 1930s).
But what seems to be significant is that he should flag up the weakness of the recovery. Is it Aussie schadenfreude? Or is it, which would be more worrying, how big businesses on the other side of the world increasingly see the UK?
UPDATE 09:34 BST
For what it is worth, Cameron Clyne, chief executive of NAB, has been very dismissive of NBNK's attempt to buy Clydesdale, in a briefing to analysts overnight
He said: "Let me be quite clear, we've never received a formal offer for this bank. We've never rejected a formal offer...We have received informal and speculative expressions of interest, all of which are very low valuations and also highly conditional...so very difficult to execute."
Which is why NAB thinks shrinking Clydesdale (and Yorkshire) is preferable to selling the bank.