Lloyds ends exclusivity deal with Co-op on branch sale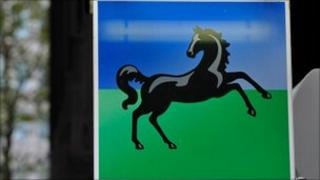 Lloyds Banking Group has said it has ended its exclusivity agreement with the Co-operative Group over the sale of 632 bank branches.
The Co-op had entered exclusive talks over the sale of the branches in December, but Lloyds will now also consider talks with rival suitors.
Earlier this month, banking venture NBNK put forward a fresh bid proposal for the branches.
Lloyds has to sell the branches for regulatory reasons.
Lloyds - which is 40%-owned by the government - has a deadline of November 2013 to complete the sale in order to meet European Commission competition rules.
The sale of the branches has been named Project Verde.
"The group continues to have productive and meaningful discussions with the Co-operative Group, its preferred buyer for the Verde business. However, LBG (Lloyds Banking Group) is no longer holding these discussions under an exclusivity agreement," Lloyds said in a statement.
"Given the renewed interest in the Verde business shown by NBNK, LBG will now consider detailed discussions with other parties but only once LBG is satisfied that any proposal is likely to achieve the appropriate regulatory clearances and offers greater value and/or certainty to LBG shareholders against its alternative option of an Initial Public Offering."
'Unique opportunity'
Last month, the chief executive of the Co-operative Group, Peter Marks, told the BBC that the deal to buy the bank branches "may not go ahead".
"There are significant economic and regulatory issues that we have to address and that's what we're working towards," he said.
NBNK was co-founded by Lord Levene, chairman of insurer Lloyd's of London, in 2010 as a business set up to establish a UK retail bank.
"We believe our offer for Verde offers significant benefits for Lloyds Banking Group and its shareholders," said NBNK in a statement.
"Verde presents a unique opportunity to create a new nationwide challenger bank and brand that will shake-up UK High Street banking and operate in the interests of its customers."