Price cap for parcels proposed by mail regulator Ofcom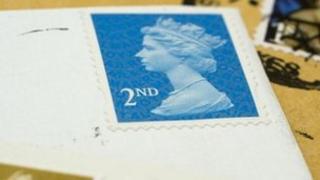 The cap on prices that Royal Mail can charge for second-class post should be extended to large letters and small parcels, the regulator has proposed.
Ofcom said that half the amount spent by the average family on postal services was the cost of sending large letters and small parcels.
It said that the price limit would be linked to the price rise allowed for regular second-class stamps.
This would protect small businesses and the vulnerable, it added.
The plans relate to large letters and parcels weighing up to 2kg.
Price changes
On Monday, the cost of sending a large letter up to 100g by second-class post will rise from 58p to 69p. The price of some small parcels of up to 2kg will also rise, depending on weight.
The cost of a second-class stamp for a regular letter will increase from 36p to 50p.
However, the rules mean these prices can go higher.
The regulator has capped the price of second-class stamps at 55p. This cap can rise at the rate of inflation over the next seven years.
The cap on large letters and parcels of up to 2kg would be directly linked to this, the regulator has proposed, meaning that prices could rise by no more than 34% from Monday until 2019 based on 2012-13 prices.