Sharp reports record annual loss of $4.7bn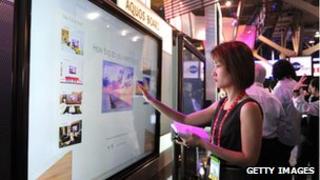 Sharp has reported a record annual loss of $4.7bn due to falling sales and prices of LCD televisions.
The company also took a charge of $1.5bn to pay for a reorganisation of its business.
Sharp expects a modest profit on operations in the current financial year of $248m.
Sharp, like Sony and Panasonic, is struggling to make money selling televisions due to competition from South Korean rivals, Samsung and LG.
"The tough environment will continue for us," said Tetsuo Onishi, Sharp's general manager in charge of finance, said at a press briefing in Tokyo.
In March, Sharp took radical action to stem losses at its television business. It sold a 46% stake in its giant plant, outside Osaka, to Taiwanese rival Hon Hai.
The company expects TV sales to fall almost 20% this year.
"The outlook is very tough. It does beg the larger question over its future as a whole," said Mitsuo Shimizu, deputy general manager of investment strategy at Cosmo Securities.
"I'm sure they have the world's best technology, but if no one wants to buy them [their TVs], there's no point," he said.