Rules relaxed for 300 pension schemes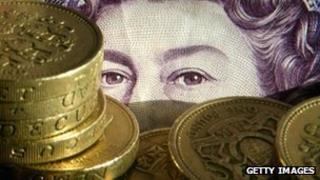 The Pensions Regulator is to relax the rules governing 300 UK company pensions to help deal with funding shortfalls.
The schemes, with around 600,000 members, are to be given extra leeway to help them survive until they can be topped up by employers.
The regulator fears the investments the schemes use are yielding so little that many will be unable to keep going unless their rules are relaxed.
The employers will be allowed to assume that investment returns will improve.
They will also be given more time to top up the funds and will be able to pledge assets such as property, rather than putting in cash to shore them up.
Without this help, the regulator thinks there is a risk that the schemes involved could be closed down, or the employers themselves could be forced out of business.
The regulator's decision is partly a recognition of the way that the Bank of England's quantitative easing (QE) programme has depressed the returns on government bonds, in which pension schemes tend to invest.
Quantitative easing is the process by which central banks create money and use it to buy things like government bonds. It tends to raise the prices of the bonds and so reduce their yields.
"Low gilt yields have the effect of driving up current measures of pension scheme liabilities and as a result will typically worsen scheme funding levels," the Pension Regulator said in a statement.
"Therefore, funding deficits may remain at the levels identified three years ago, or even higher for some schemes, despite significant deficit repair contributions over the last three years."
Ros Altmann, director general of Saga, welcomed the statement from the regulator but said it was a shame that it had not been clearer about the damage done to pensions by QE.
"QE has put UK defined benefit pensions in an even more difficult position than they were before, as it has led to a sharp rise in liabilities and many firms are struggling to manage their deficits," she said.
"This means that the regulator has had to tread a fine line between, on the one hand, allowing employers too much leeway to ignore worsening funding positions and, on the other hand, forcing them to fill their pension holes too quickly, thereby undermining the sponsoring company itself."
The National Association of Pension Funds (NAPF) welcomed the regulator's attempts to clarify the situation for pension trustees, it suggested the statement could be too optimistic.
"As the negative growth figures this week have shown, the outlook for the economy remains highly uncertain and there is the possibility that more QE will unfold," said NAPF chief executive Joanne Segars.
"Whilst the regulator is optimistic that the majority of pension schemes will not need to make significant increases in their contributions, it will need to stand ready to adjust its expectations if the real experience of pension schemes turns out to be far worse."