Ex-Morgan Stanley banker admits bribing China official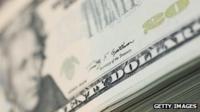 A former Morgan Stanley executive, Garth Peterson, has pleaded guilty to bribing a Chinese official in exchange for business and personal gain.
US authorities alleged that Mr Peterson paid money to the official to win investments for the bank.
Mr Peterson, who was head of the bank's real estate investments division in China, is also accused of secretly acquiring valuable property in China.
He faces up to five years in prison and a fine of $250,000 (£155,000).
"Peterson crossed the line not once, but twice. He secretly bribed a government official to illegally win business for his employer and enriched himself in violation of his fiduciary duty to Morgan Stanley's clients," said Robert Khuzami of the US Securities and Exchange Commission (SEC).
Permanently barred
The SEC alleged that Mr Peterson had "secretly arranged" to have at least $1.8m paid to himself and the Chinese official.
It said he had disguised these payments as finder's fees that Morgan Stanley's funds owed to third parties.
Mr Peterson had agreed to forfeit his stake in the Shanghai real estate which the SEC said was valued at approximately $3.4m.
He has also been permanently barred from the securities industry.
Morgan Stanley, which has not been charged in the case, said it was satisfied with the outcome.
"Mr Peterson's intentional circumvention of Morgan Stanley's internal controls was a deliberate and egregious violation of our values and policies," said Matt Burkhard, spokesman for Morgan Stanley.