Wal-Mart shares fall after Mexico 'cover-up' report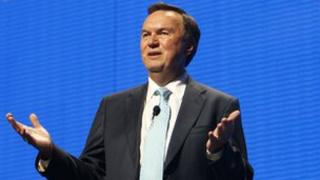 Shares in Wal-Mart have fallen 5% following weekend reports of a cover-up at its Mexican subsidiaries.
The New York Times said its executives had failed to root out alleged bribery by company officials in Mexico.
Two US congressmen have started an investigation and asked for a meeting with Wal-Mart's chief executive.
Wal-Mart said the alleged activities were more than six years old but it was "deeply concerned" by them and "working aggressively" to find out the truth.
"We have met voluntarily with the US Department of Justice and the Securities and Exchange Commission to self-disclose the ongoing investigation on this matter," a Wal-Mart spokesman said.
"The audit committee and the outside advisers have at their disposal all the resources they may need to pursue a comprehensive and thorough investigation."
The two Congressmen are Elijah Cummings from the House Oversight and Government Reform Committee and Henry Waxman from the House Energy and Commerce Committee.
In their letter to Wal-Mart chief executive Michael Duke, they said the report "raises serious questions about potential violations of United States law, including the Foreign Corrupt Practices Act".
"It also raises significant questions about the actions of top company officials in the United States who reportedly tried to disregard substantial evidence of abuse."
The article alleged that company officials had been informed in 2005 that bribes had been paid to obtain construction permits in Mexico.