Will-writing must be regulated, says legal body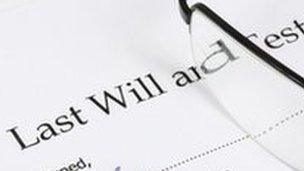 All professional will-writers should be regulated, an advisory group has said, after uncovering cases of names being omitted from paperwork.
The Legal Services Board (LSB), which oversees the industry in England and Wales, said 20% of wills contained mistakes.
Anyone can set up a will-writing service, but the LSB wants all providers to be regulated.
It said that regulated solicitors should also face closer inspection.
This could include spot-checks by the Solicitors Regulation Authority, in order to cut out the "sloppiness, simple errors and poor communication".
Examples have of these mistakes have included wills that have been cut and pasted without changes being made, or names having been omitted.
However, Chris Kenny, chief executive of the LSB, said it should still be acceptable for people with very simple estates to be able to write their own wills using do-it-yourself guides.
'Confidence'
The LSB said that there were "systematic problems" with will-writing, included unfair sales practices, and fraud and deception.
Those families affected found that they had little redress when things subsequently went wrong.
It recommended that all providers were regulated, and that a variety of different types of services were permitted to operate, ranging from general legal services to specialists.
These providers should be aware of the latest developments and rules in the industry.
"Making a will is something everyone should do. It is one of the most important actions that individuals take," said David Edmonds, who chairs the LSB.
"We all should have a high degree of confidence in those entrusted with the task of writing our wills, advising us on the most appropriate actions, and ensuring that our wishes are carried out.
"We found too many examples of providers - lawyers and will-writers alike - not listening to their clients or being sloppy in their work - meaning those taking the important step of writing a will were also, unfortunately, leaving problems to their beneficiaries."
The recommendations will now go through consultation and be considered by the government. It is expected to make a decision by the end of the year. If given the go-ahead, regulation could be in place within two years.
In Scotland, will-writers who are not solicitors will come under a new regulator later this year. Solicitors are already regulated. In Northern Ireland, people can go to a solicitor or buy a pack themselves.
High complaint numbers
A survey by HSBC last year suggested that two-thirds of UK parents asked had failed to make a will.
But, out of 17 countries, only parents in Canada were more likely to have written one, the HSBC poll on retirement suggested. The study surveyed 17,000 people around the world, including 1,000 in the UK.
Meanwhile, the legal ombudsman for England and Wales, Adam Sampson, in a report published last year, said the most complaints he saw concerned conveyancing, family law and wills.
He can only rule in disputes involving qualified lawyers. He called for action to be taken to ensure consumers were not left vulnerable by unregulated services.