China manufacturing on the mend, HSBC survey shows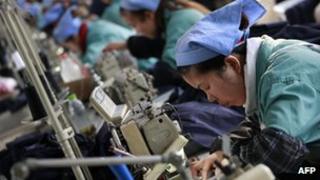 China's manufacturing activity slowed less quickly in April than the previous month, a preliminary HSBC survey has showed.
The HSBC Purchasing Manager's Index (PMI) rose to 49.1 from 48.3 in March easing concerns of a sharp slowdown in China's economy.
There have been fears that slowing growth in key markets such as the US and eurozone may hurt China's economy.
China relies heavily on manufacturing and exports for growth.
The PMI is a key indicator of manufacturing activity. A reading below 50 shows contraction in the sector and the HSBC index has remained below that mark for six straight months now.
However, Markit Economic Research, which publishes the index, said the latest reading "pointed to a slower pace of deterioration than in March, largely reflecting slower rates of decline of manufacturing production and new orders."
Analysts at BNY Mellon pointed out that the index had not been consistently above 50 since June 2011, although it is above readings of the low-40s recorded during the depth of the global financial crisis in late 2008 and early 2009.
Additional easing?
The figures come just days after China reported that its economy expanded at an annual rate of 8.1% in the first three months of the year, the slowest pace of expansion in almost three years.
Prompted by concerns over the impact of a global slowdown on its economy, China's has been easing some of its policies in a bid to boost growth.
China's central bank has cut the amount of money that banks need to hold in reserves, twice in the past few months, in a bid to boost lending in the country.
Data out earlier this month showed that banks extended 1.01tn yuan ($160bn; £100bn) in new loans in March. much more than the forecast of 800bn yuan.
Hongbin Qu, chief economist China at HSBC said the latest PMI data indicated that "the earlier easing measures have started to work".
However Mr Qu added that despite the improvement in April, "the pace of both output and demand growth remains at a low level in an historical context."
He said that authorities need to take additional measures to ensure a sustained growth in the manufacturing sector.