China's car market matures after ultra-fast growth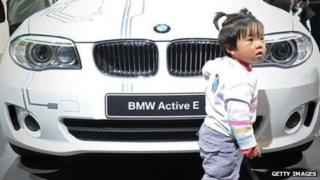 The market is flat and competition is hot as this year's Beijing motor show gets underway this week.
After years of ultra-fast growth in both sales and in new production ventures, the Chinese economy is cooling, and so is the collective mood of carmakers.
But that is not to say carmakers at the show are gloomy.
The facts that the market is maturing and that growth rates are slowing do not mean the market is saturated.
"What we had in 2011 was a slowdown of growth, which I would call a normalisation of demand", says motor industry Klaus Paur from consultancy Ipsos.
Taste for luxury
After all, only about 3% of the Chinese population owns a car currently, compared with 80% in the United States.
Many in the industry predict the Chinese market, which is already the world's largest, to require 30 million vehicles per year by 2020 - compared with 18.5 million sold last year.
"You have a lot of potential demand for many years to come," according to industry watcher Michael Dunne, president of Dunne & Co.
But for the moment, the broader Chinese car market has paused.
Last year, sales grew just 2.5% to about 18.5 million vehicles, after surging by 35% during 2010. This year the market is expected to grow about 5%.
But within the market, there are segments that are still expanding much faster, most notably luxury car sales that are aimed at China's ballooning army of super-rich people.
Germany's leading luxury car companies all reported sales growth in China of between 30% and 40% last year, and so far this year the luxury car market in China has enjoyed a growth rate close to 37%.
Domestic rivals
With demand for luxury cars spreading across China, well beyond its largest cities, the competition between manufacturers is heating up too as Chinese manufacturers are getting in on the act.
At this week's show in Beijing, BAIC will show off a possible future rival to the Audi A6, the BMW 5 series and the Mercedes E-Class, which are popular chauffeur-driven models for China's wealthy.
Competition in the mainstream market for cheaper, mass-produced cars is even tougher.
Here, home grown manufacturers such as BYD, Geely or Chery are well established, so these days they are working hard to prove that their cars are as good as those made by foreign firms, both in terms of technology and quality, as well as in terms of safety.
Some Chinese carmakers are gearing up to export to, or even produce in, markets well beyond their own borders.
"In five years at the latest, China will be in a position to launch a vast overseas offensive," predicts Ferdinand Dudenhoffer, professor at the Automotive Research Centre in Germany.
Nevertheless, in their home market the Chinese carmakers account for less than a third of total sales.
Hence, non-Chinese carmakers, such as General Motors (GM) and Ford, Volkswagen Group and Nissan remain optimistic.
They all seem to be gunning for sales doubling in three to five years.
Their ambitious targets are bolstered by millions of dollars in new production facilities in the country, with new production plans expected to be announced alongside the new and glitzy models at the Beijing motor show.
The Beijing motor show is open to the public from 27 April until 2 May.