People's Daily website raises $222m via share sale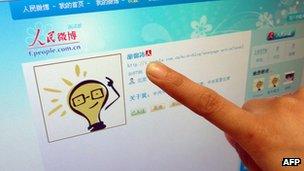 The website of Chinese newspaper, People's Daily, has raised 1.4bn yuan ($222m; £138m) via its initial public offering, nearly three times the amount it had originally planned to raise.
The website said it sold 69.1 million shares at 20 yuan each, which was the lower end of its price range.
The state-run website is planning to use the funds to upgrade its technology amid increasing competition.
People's Daily is the newspaper of China's ruling Communist Party.
'Expensive business'
People's Daily's website, People.cn, has been facing increasing competition from private firms such as Sina Corp and Sohu.
China is the world's largest internet market with 500 million users. That number is expected to rise even further in the coming years.
As the market grows, more companies are likely to enter the sector in the near future.
Analysts said that given the growing competition, companies needed to keep updating their technology to retain their user base.
"The key differentiator is how well produced and presented a company's content is," Mark Natkin of Marbridge Consulting told the BBC.
"And producing quality content is an expensive business."