Ford unveils further investment in China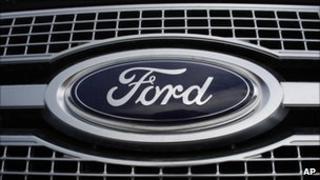 US carmaker Ford has announced further investment in China, with plans to build a $760m (£474m) factory in Hangzhou.
Car production at the new plant is expected to start in 2015.
Ford already has a big complex in Chongqing, which is its largest global manufacturing location outside south-east Michigan.
Two weeks ago, the company said it would build a third plant there by investing $600m.
Ford has been boosting its manufacturing capacity in China as part of its effort to raise global sales by nearly 50% to about 8 million cars by 2015.
"So far, Ford's investments in China and across Asia represent its largest and most rapid global expansion in 50 years," said Joe Hinrichs, president of Ford Asia Pacific.
Catching up
China is already the world's biggest car market and Ford expects sales there to nearly double from 18.5 million last year to about 30 million by 2020.
In order to meet growing demand, Ford aims to double the number of its dealerships and employees there by the end of the decade.
The latest announcement brings the firm's total investment in China to approximately $4.9bn since 2006.
However, Ford was a relative late-comer in the market and has been playing catch-up with the likes of General Motors and Germany's Volkswagen.
While Ford sold 320,658 vehicles in China last year, both GM and VW sold more than 2 million.
Ford makes cars there in a tie-up with Chongqing Changan Automobile and Japan's Mazda Motor.
It also holds 30% of Jiangling Motors which produces light commercial vehicle Ford Transit vans.