Cost of gardening falls in inflation data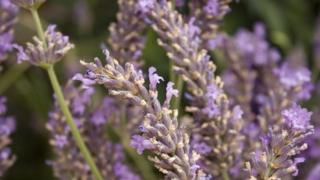 Gardeners across parts of England are putting away hosepipes as a ban begins ahead of a long, dry summer.
But while horticultural enthusiasts are trying to create more with less water, new figures suggest that costs are down for people who like watching their garden grow.
Inflation data, which charts the cost of living, shows that recreation and culture is the only sector in which prices were lower in March than they were a year earlier.
Within this sector, the Office for National Statistics (ONS) recorded a 2.6% fall in the cost of gardens, plants and flowers over the same period.
So, is mowing and potting on a Sunday the new way to save money?
Price competition
Guy Barter, chief horticultural adviser for the Royal Horticultural Society, says he is surprised by the figures.
The exchange rate may have been favourable for some suppliers buying plants from overseas. However, peat and other materials used for potting, have increased in price recently, he says.
Meanwhile, fertiliser has soared in price in recent years and plastics used in greenhouses have become more expensive.
All of this is the result of the rising cost of oil - which has kept on pushing up transport costs in the wider economy, increasing frustration for drivers.
Instead, price promotions by retailers in an "intensely competitive market" have pushed down costs for gardeners, according to Mr Barter.
"A lot of places such as DIY superstores rely on a large volume of customers. They make very little per plant," he says.
The competition has become keener, because there is a market of enthusiastic - but strictly amateur - gardeners to target.
Mr Barter says that last summer offered adequate rainfall and was followed by a mild winter and spring. This has encouraged people to get out on to their lawns and borders and visit garden centres and nurseries.
He adds that these retailers have also improved their game, creating shops that are much more of a family destination at the weekend, complete with coffee shops and restaurants.
Snap unhappy
A glance at the inflation data gives another clue as to why families might be paying more attention to their garden.
Over the 12 months to March, only the cost of housing and household services has grown at a faster rate than food and non-alcoholic drinks.
Vegetables have gone up in price by 4.2% over the same period, pushing some people to try to grow their own and save on the family budget.
It is not just green-fingered families who are seeing the benefit of a fall in prices.
The ONS points out that there is pressure on retailers to attract consumers' discretionary spending.
The biggest price falls in the recreation and culture sector over the past year were actually found among audio-visual equipment and related products, the UK inflation data from the ONS shows.
For example, the cost of photographic, cinematographic and optical equipment fell by 31.5% in the 12 months to March.
Discounting
Zhelya Dancheva, an analyst with GfK Retail and Technology, says that the prices of standard compact cameras have dropped sharply to typically just more than £80.
"Demand has been declining, so there are lots of price promotions and discounting to try to attract more consumers," she says.
Primarily, these cameras have suffered because many people simply use their smartphones to take pictures instead of buying a new camera.
Also, the vast majority of households already own one of these cameras, so retailers are chasing a relatively small replacement market, she says.
These retailers are concentrating on growth in more advanced cameras with stronger zooms, as people may buy a camera with facilities their phone cannot match.
Hanging baskets
Back in the garden, Mr Barter says that hard-pressed families are budgeting their water too, owing to the drought conditions in parts of England.
The hosepipe ban means the lack of opportunity to water plants has been top of the agenda during the Royal Horticultural Society's National Gardening Week, which is in full swing.
Mr Barter says this has led to demand among gardeners for robust plants, such as lavender and rosemary.
Meanwhile, bedding plants and geraniums have been top of the shopping list for many enthusiasts, as have climbers - the intriguingly named Black-eyed Susan is proving popular.
But, even if prices have dropped, the rising cost of living in general means most families are very unlikely to be going on a spending spree that would allow the UK economy to bloom.