House prices up slightly in past 12 months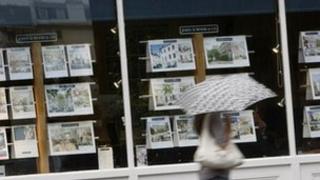 House prices in the UK are barely higher than a year ago, according to the government's house price index.
The Office for National Statistics (ONS) said prices in February had risen by just 0.3% over the past year.
There are big regional variations, with prices rising in London, the South East and Scotland, but falling sharply in Northern Ireland and the North East.
Prices rose by 0.2% in February, putting them at an average of £224,473 across the UK.
Publication of the index has been taken over by the ONS from the Department for Communities and Local Government.
"In the 12 months to February 2012, average house prices increased in both England and Scotland by 0.4% and 1.1% respectively," the ONS said.
"These increases were offset by decreases in Wales, where average prices decreased by 0.5%, and Northern Ireland, where average prices fell by 9.7%.
"The annual increase in average house prices in England was driven by increases in both London and the South East, where prices increased over the year by 1.7% and 1.2% respectively," the ONS added.
By contrast, prices in the North East fell by 5% in the year to February.
"Housing market activity and prices were clearly helped early in 2012 by first-time buyers looking to complete before the stamp duty concession ended on 24 March," said Howard Archer at IHS Global Insight.
"The average price of properties bought by first-time buyers was up by 1.3% year-on-year in February (up from an increase of 0.9% in January), while prices were only flat year-on-year in February for properties bought by existing owners," he added.
Russell Quirk, of online estate agent eMoov.co.uk, said house prices in London were "in a league of their own".
"Average prices in England are only in the black due to the strength of London," he said.
"If it weren't for the capital, the overall house price picture would be a lot less pretty."