Temasek to buy $2.3bn ICBC shares from Goldman Sachs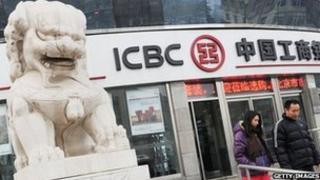 Singapore's Temasek Holdings has agreed a deal to buy Goldman Sachs's shares in the Industrial and Commercial Bank of China (ICBC), the world's largest bank.
The state-owned fund will pick up $2.3bn (£1.5bn) worth of ICBC shares, taking its stake to 1.3% in the bank.
The move comes as China's state-owned banks have reported a surge in their profits.
Last month, ICBC reported that its net profit jumped 17% in the October to December quarter, from a year earlier.
Analysts said the dominance enjoyed by the state-owned banks in China makes them an attractive investment.
"China's banking sector has a huge potential. The state-owned banks are big drivers of Chinese growth and it is a good market to be in," Justin Harper of IG Markets told the BBC.
Over-exposed?
The Chinese banking sector has grown substantially over the past few years, driven by a surge in lending in the country.
However, that has also led to concerns about bad loans and their impact on the banks and their investors.
Analysts said that Temasek, which also holds stakes in China Construction Bank and the Bank of China, needs to ensure that it does not expose itself too much to these risks.
"They have to be careful that they are not putting all their eggs in one foreign basket," said Justin Harper.
Temasek's investment also comes at a time when China has indicated that it may open up the banking sector to private players in a bid to break the monopoly enjoyed by the state-owned banks.
Any such move is likely to see more competition in the market and expected to result in lower profit margins for the banks.