Italy's borrowing costs rise in bond auction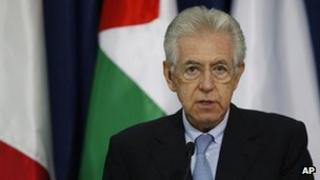 Italy's cost of borrowing has risen, a sign of fresh concerns among investors about the country's ability to reduce its high levels of debt.
In a three-year bond auction, Italy paid an interest rate of 3.89%, up from 2.76% in a similar sale last month.
The rate on Italian bonds had fallen in recent months, but markets are again becoming nervous about Italy and Spain's ability to hit deficit targets.
Meanwhile, figures showed a further increase in Greek unemployment.
The number of unemployed people grew by 32,331 in January compared with December last year, with the unemployment rate rising to 21.8%.
There are were 363,369 more people out of work than a year earlier, when the unemployment rate was 14.8%.
Greece is in the midst of a deep recession that began in 2008.
Figures also released on Thursday showed a small increase in eurozone industrial production, which grew by 0.5% in February compared with the previous month.
Compared with February last year, production fell by 1.8%.
Doubts return
Italy raised 4.9bn euros in the debt auction, which also included longer-dated bonds.
Interest rates, or yields, on Italian bonds traded in the secondary market rose slightly following the auction, but still remained below Wednesday's close.
Concerns about the eurozone debt market have returned this week, with European stock markets falling sharply on Tuesday.
New governments in Italy and Spain have announced deep spending cuts to try to hit stringent deficit targets and reduce the cost of borrowing on the international money markets, but investors remain unconvinced that these targets will be hit.
For this reason, they demanded a higher rate of interest to lend to Italy.
"The funding environment is getting tougher for the periphery," said Michael Leister at DZ Bank.
"Overall, we believe [yields] are biased towards further [increases], although we still prefer Italian debt over Spanish."
The eurozone debt crisis will also continue to have an impact on global trade, according to the World Trade Organisation (WTO).
The body said on Thursday that it expected growth in global exports to slow to 3.7% this year, down from 5% in 2011 and 13.8% in 2010.
"More than three years have passed since the trade collapse of 2008-09, but the world economy and trade remain fragile," said WTO chief Pascal Lamy.