Rail franchises: FirstGroup, Stagecoach among bidders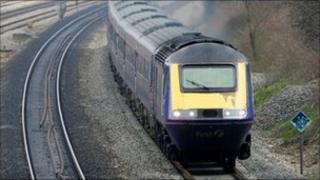 The government has announced the firms who want to become the next operators of three railway lines.
A total of seven firms - including FirstGroup and Stagecoach - are bidding for the Great Western, Thameslink and Essex Thameside rail franchises.
Rail Minister Theresa Villiers saidit was part of the "biggest programme of refranchising since the privatisation of the railways".
The first winner will be announced in December.
That is for the Great Western franchise, which the operator will begin running in April 2013 for a term of 15 years.
The line runs between London, the west of England, south Wales and parts of the Midlands.
Current operator First, which was awarded the franchise since before 1998, said it did not want to take up the option to extend its current contract beyond March 2013, preferring instead to re-bid for a longer contract.
"Our reformed approach to franchising will give more flexibility to train operators on how they configure services and run their business," Ms Villiers said.
The new winner to operate the Essex Thameside franchise will begin in May 2013. The length of the franchise term will be 15 years.
And the winning bid for the Thameslink line will start operating in September 2013 for a minimum of seven years.
"The new Thameslink operator will help oversee the completion of the Thameslink project which will enable a near doubling of capacity into and through central London in the peak periods," Ms Villiers said.
The seven firms are: FirstGroup, National Express, Stagecoach, Arriva, Abellio, MTR and the Go-Ahead Group.
All operate franchises currently.