China Mobile profits rise in 2011 on data downloads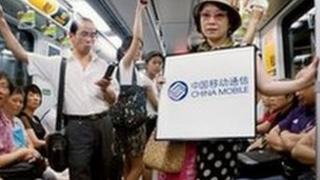 Profits at China Mobile, the world's largest mobile operator by subscribers, have risen by 5% as its customers downloaded more games and video.
The Hong Kong-listed company said it made 125.9bn yuan ($20bn; £13bn) in profit last year, compared with 120bn yuan in 2010.
The company said China's relatively buoyant economy would underpin future growth in profits.
However, it also said it expects to face increased competition.
Wang Jianzhou, China Mobile's chairman, said that the company had "made positive strides" in 2011 against the backdrop of China's "steady and fast economic growth".
However, he warned that intense competition, changes in the telecommunications market and increasingly high mobile penetration could limit growth.
"Facing both opportunities and challenges, we will fully leverage our advantages, including the world's largest mobile network and customer base," he said in a statement.
China Mobile competes with China Unicom and China Telecom.
Unlike its smaller rivals, China Mobile does not offer the iPhone but it hopes to seal a contract with Apple to begin selling the popular smartphone later this year to boost growth, according to local reports.